Robotics Society of Southern California
Building Ebot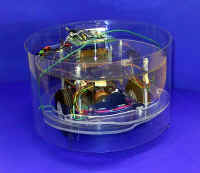 Note: (almost) All pictures on this site are thumbnails. Double click on picture to download a high resolution large picture. Warning: often exceeds 200KB.
"Ebot" is a project of the Robotics Society of Southern California. The objective is to provide a set of instructions to build a basic amateur robot. The instructions are intended to be detailed enough to allow even an inexperienced person to succeed. The goal of the project is to provide a fast route for our members to build an operating robot.
The goal is to provide a discussion of the design decisions that go into designing a robot like Ebot and to provide a specific design that the members can build to; as well as enough information that the members can modify the design if they wish.
The project will consist of a series of meetings just before the monthly meeting of the RSSC. This meeting will generally review progress of the builders since the last meeting, discuss the next stage of the project, and provide builders with any necessary help or advice. Click here for a project outline.
The mail list at http://groups.yahoo.com/group/sdrs-list (San Diego Robotics Society, we share this list with them) will be used as a forum for discussion and question/answers during the month between meetings.
The project will proceed in a logical manner. First building the Platform; next modifying the servo motors for continuous rotation and attaching the wheels: Motor-wheels; Mounting the motor-wheel assemblies to the platform; adding Casters to balance the robot; selection of a Microcontroller, designing a power supply, assembling it all into a robot, and finally programming it to do some useful tasks. .